July 30, 2012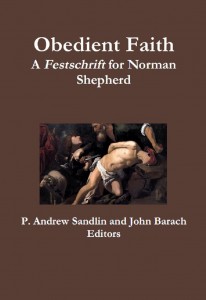 At long last, it's finally here: P. Andrew Sandlin & John Barach, eds., Obedient Faith: A Festschrift for Norman Shepherd (Mount Hermon, California: Kerygma Press, 2012).
Preface — P. Andrew Sandlin
Tributes — John H. Armstrong, John M. Frame, Charles A. McIlhenny, Michael D. Pasarilla, Steve M. Schlissel, Jeffery J. Ventrella, Roger Wagner
1.  Growing in Covenant Consciousness — Norman Shepherd
2.  The Whole Counsel of God: The Abandonment of John Murray's Legacy at Westminster Theological Seminary — Ian Alastair Hewitson
3.  Original Righteousness — Ralph F. Boersema
4.  The Glory of the Man: Women, Psalms, and Worship — James B. Jordan
5.  Faith's Obedience and Israel's Triumphant King: Romans 1-5 Against Its Old Testament Backdrop — Don Garlington
6.  Mother Paul and the Children of Promise (Gal. 4:19-31) — Peter J. Leithart
7.  Sola Fide: True and False — P. Andrew Sandlin
8.  The Reformed Doctrine of Justification by Works: Historical Survey and Emerging Consensus — Rich Lusk
It's currently available from Lulu, but it will soon be available on Amazon as well as from Biblical Horizons (from whom you can purchase this book, together with new books from Ralph Boersema and Peter Leithart, as a package deal: Watch for it!).
4 Responses to "Obedient Faith"
Leave a Reply