August 30, 2011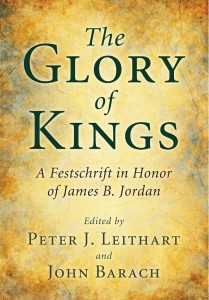 It's finally available: Peter J. Leithart & John Barach, eds., The Glory of Kings: A Festschrift in Honor of James B. Jordan (Eugene, OR: Pickwick, 2011).
Foreword — R. R. Reno
Introduction — Peter J. Leithart
PART ONE: BIBLICAL STUDIES
1.  The Glory of the Son of Man: An Exposition of Psalm 8 — John Barach
2.  Judah's Life from the Dead: The Gospel of Romans 11 — Tim Gallant
3.  The Knotted Thread of Time: The Missing Daughter in Leviticus 18 — Peter J. Leithart
4.  Holy War Fulfilled and Transformed: A Look at Some Important New Testament Texts — Rich Lusk
5.  The Royal Priesthood in Exodus 19:6 — Ralph Allan Smith
6.  Father Storm: A Theology of Sons in the Book of Job — Toby J. Sumpter
PART TWO: LITURGICAL THEOLOGY
7.  On Earth as It Is in Heaven: The Pastoral Typology of James B. Jordan — Bill DeJong
8.  Why Don't We Sing the Songs Jesus Sang? The Birth, Death, and Resurrection of English Psalm Singing — Duane Garner
9.  Psalm 46 — William Jordan
PART 3: THEOLOGY
10. A Pedagogical Paradigm for Understanding Reformed Eschatology with Special Emphasis on  Basic Characteristics of Christ's Person — C. Kee Hwang
11.  Light and Shadow: Confessing the Doctrine of Election in the Sixteenth Century — Jeffrey J. Meyers
PART FOUR: CULTURE
12.  James Jordan, Rosenstock-Huessy, and Beyond — Richard Bledsoe
13.  Theology of Beauty in Evdokimov — Bogumil Jarmulak
14.  Empire, Sports, and War — Douglas Wilson
Afterword — John M. Frame
The Writings of James B. Jordan, 1975–2011 — John Barach
The book is currently available for order directly from Wipf & Stock for $40.00 (but there are discounts if you order more than 100).  In a couple of weeks, it should appear on their webpage, and in six to eight weeks should appear on Amazon.
Leave a Reply