November 21, 2013
As many people have pointed out, in Christian ethics, the indicative precedes the imperative. First God says, "I am Yahweh your God, who brought you out of the land of Egypt, out of the house of bondage," and then he gives the Ten Words ("You shall have no other gods before me…").  First Paul tells us what Christ has done and who we are in Christ, and then he summons us to act accordingly.  First comes the good news of what God has done for us and then comes the summons to respond in faith and love and new obedience.
But when we look at the very beginning of Scripture, what we discover is that the imperative came first.  God creates the heavens and the earth, and then the first word God speaks is a command: "Let there be light" (Gen 1:3).  Now, that's not the first word in the Bible — first comes the narration, the story of God creating the heavens and the earth, and the description of the earth at the time of creation — but it is the first word recorded that God spoke with regard to that creation.  He creates the world.  It's dark, unstructured, and unpopulated, and the Spirit is hovering over the deep.  The narrative reminds us that there's always an indicative implicit in and before the imperative, so that the imperative assumes and develops a personal relationship between commander and commanded, so that the imperative is never mere imperative but rather is a vocation.  Nevertheless, in terms of God's speech in history, the imperative comes first, and surely that's significant.
With regard to man, something similar is the case.  In Genesis 2, which develops and expands the account of Day Six in Genesis 1, we learn that when Yahweh God placed Adam in the Garden, he spoke to him: "Of every tree of the garden you may freely eat, but of the tree of the knowledge of good and evil you shall not eat, for in the day that you eat of it you shall surely die."  Here, the first thing Yahweh God says is indicative ("Of every tree of the garden you may eat"), but it's an indicative indicating permission (as opposed to a mere statement) and is tied to the next clause in the sentence, which is an imperative disguised as an indicative: "you will not eat" is indicative in form but imperative in force, meaning "don't eat."  So the permission given in the first clause also shares something of that imperatival character.  Again, there is a lot of implicit indicative here, including the personal relationship of Adam to Yahweh God who is his creator and the commander.  But the first thing Yahweh God says to Adam has the force of a permission and a command with regard to the trees, something imperatival in force.
Returning to Genesis 1, we find that God's work with creation takes the form of a series of imperatives, moving through the days of creation up to the sixth day, when man is created, male and female.  While the events in Genesis 2 take place first, before the creation of the woman, in Genesis 1 the first word of God to the pair, to man as the image of God, male and female, again takes the form of an imperative.  God's first word to Man (male and female) is not a description of creation, not a presentation of all of God's goodness, not a report about how God made man in his image, not a promise of what God would do for Adam and Woman.  Instead, it's a command.  Sure, it's a blessing, but it's a blessing in the imperative: "Be fruitful and multiply; fill the earth and subdue it; have dominion over the fish of the sea, over the birds of the air, and over every living thing that moves on the earth" (Gen 1:28).  Only after that does he go on, in the indicative, to say that he has given man the green plants and the trees for food (1:29).  The first thing Adam and Woman heard from God was an imperative, and surely that's significant.
In fact, we can go back before the creation of man to the first word God spoke, and again it is an imperative: "Let there be light" (Gen 1:3).  That's not the first word in the Bible — first comes the narration, the story of God creating the heavens and the earth, and the description of the earth at the time of creation — but it is the first word recorded that God spoke with regard to that creation.  He creates the world.  It's dark, unstructured, and unpopulated, and the Spirit is hovering over the deep.  But then comes the imperative and things begin to change ("And there was light").  Again, the imperative comes first, and surely that's significant.
What does an imperative do?  Eugen Rosenstock-Huessy's observations are helpful here: 
The imperative not only commands the listener; it at the same time lights up an alley of time into the future.  A trail into time is beaten by the logic of any order given.  A high tension current places the moments following the order under the expectation: will this command be followed up and fulfilled?  The term "fulfillment" used in this connection is significant.  By the imperative, time is formed into a cup, still empty but formed for the special purpose of being filled with the content demanded by the order.  The action following the order is not a blind accident of the moment.  By having been ordered, it has become organized into one "time span" which stretches from the moment in which the order was given to the moment in which the report is echoed back: "order fulfilled." Orders connect two separated human beings into one time span, of which the imperative forms the expectation, the report the fulfillment (The Origin of Speech, 46-47).
When God speaks to man for the first time and uses the imperative instead of the indicative, he is creating what Rosenstock-Huessy calls a "time cup."  There is now a dramatic tension in the story: Will Adam and Woman obey God?  Will they be fruitful and multiply?  Will they have dominion over the animals?  What will they do in response to God and to his commanding word?  His order now orders their lives, revealing to them their calling, their responsibility, their relation to God and to the world– revealing how they are to use and order time.
The imperative creates the story that follows: by creating the expectation and setting the standards for judgment, it makes the story that follows what it is.  Without the imperative, it would just be a story of God creating man and then man doing, well, whatever he felt like.  There would be no tension, no expectation, no hope, no sense of satisfaction at a job completed, no disappointment in failure and rebellion, and no corresponding joy at redemption and restoration — by which I mean: restoration to the original task and calling, the calling of maturation, fruitfulness, multiplication, and dominion.
But there was an imperative, an expectation, an impetus forward, creating the story.  It's a story in which, in an important sense, the indicative does precede the imperative: God takes the initiative (as he does even in the Creation narrative) and man responds; God acts on our behalf so that we then can and do respond to him in trust and obedience.  In all imperatives, there's at least an implicit indicative that underlies it, as I've said above.  But what makes it a story is that it's a time cup, an imperative-created expectation awaiting fulfillment.  We still look forward to man's fulfilling of the mandate given in Genesis 1 (and so does God), with the joyful certainty because of Christ (here's the all-important indicative!) that it will be fulfilled.  In fact, even the imperative that was God's first word in his creation ("Let there be light") has not yet been fulfilled to the fullest extent, and all of history — and all of our lives — are meant to be aspects of that fulfillment until the earth is full of God's glorious light.
History — the history of the world, and our history — is a time cup, formed by God's imperatives.
October 15, 2013
The other day I started reading T. David Gordon's Why Johnny Can't Preach, in which Gordon protests against the sort of thing that passes for preaching, he says, in many evangelical churches.  In his first chapter, he presents seven essential criteria for a sermon, and not just a great sermon but just a good sermon or even a mediocre sermon.  One of those criteria is unity.  Gordon cites Dabney:
Unity requires these two things.  The speaker must, first, have one main subject of discourse, to which he adheres with supreme reference throughout.  But this is not enough.  He must, second, propose to himself one definite impression on the hearer's soul, to the making of which everything in the sermon is bent" (cited 24).
Gordon proposes this test: "If ten people are asked after the sermon what the sermon was about, will at least eight of them give the same (or a similar) answer?" (24).
I wonder about this alleged "essential."
First of all, it would be very easy to say what a sermon is "about" if the sermon is topical.  If you're preaching on the subject of baptism, the congregation ought to be able to say afterwards, "That sermon was about baptism."  If you're preaching on marriage, at least eight out of ten people should be able to identify the topic as marriage.
But if you're preaching on a text of Scripture, that criterion becomes much harder to apply.  Sure, there are easier passages.  If you're preaching on 1 Peter 3:7, people should recognize that you're talking about the calling of Christian husbands with regard to their wives (or, as eight out of ten congregation members might say if you asked them, "The sermon was about husbands").
But what if you were preaching on, say, the Ehud narrative in Judges 3.  What's that sermon "about"?  Well, it's about Ehud.  It's about Ehud assassinating Eglon, the fat king of Moab, and rescuing Israel and then leading to Israel to victory against the Moabites.  It's about Christ, who strikes the first decisive blow and then leads his church to victory.  It's about how God turns those who oppress his people into stinking piles of what you leave behind when you're "covering your feet" and how he thereby makes his people laugh.  You could say "It's about deliverance" or "It's about war" but how inadequate a summary that would be.  Ask most congregation members and they might say "It was about Ehud."  But the inability to state one clear topic ("The sermon was about X") doesn't necessarily mean that there was a fault in the sermon.
Second, I wonder about the emphasis on unity as opposed to diversity.  When I was in seminary, I learned (and good training it was, too) to craft for my sermon a theme statement.  It had to contain an active (not passive) verb and it ought to have the application implied, at least in nuce, something like "Paul summons us to adopt the mindset of Christ" for a sermon on Philippians 2:5ff.  The sermon would then usually have two to four points drawn from the text, all related to that theme in some way.  Again, that was good training and I'm thankful that I learned how to craft such a sermon and that I followed that practice for several years at the beginning of my ministry.
But something else happened when I was in seminary.  I was working on 2 Kings 3 for an Old Testament class.  I had done my exegesis and was preparing my sermon, and I bounced my sermon outline off Jim Jordan, asking him if he thought that I had caught the theme of the passage.  His response, if I remember correctly, was something like this: "I think you've caught a theme of the passage."
But then he went on to ask why we would think that a passage could have only one possible theme.  God, after all, is Triune.  He is both one and three, both Unity and Diversity and the source of unity and diversity.  There may, he said, be a number of different ways to sum up the theme of the passage, different things that one could bring to the surface, including some little details in the text that may not fit perfectly with the theme I had chosen but that still were in the text.
It took a long while for his words to sink in, but I'm persuaded of them now.  You might preach a text faithfully and yet have a different theme statement than I would have, and that wouldn't necessarily mean that one of us had caught the theme of the passage correctly while the other hadn't.  It might just mean that you and I are bringing out different facets or aspects of the passage.  I might think that something in verse 3 is particularly significant, but you might brush right past it and camp instead for a long time on verse 5.  It might be possible to camp on both verse 3 and verse 5 and risk having people say, "I wasn't sure if that sermon was more about X or about Y."  If X and Y are both in the passage, what does it matter if people think that instead of one main point you had two? In fact, when you're preaching a passage of Scripture, isn't the primary unity of the sermon found in its source, namely, that what you're saying — though you might be talking about X and Y and Z — all is drawn from and relates to the one passage you're preaching?
As Jim Jordan taught me, God is one and three and his triunity is reflected in his word and may be reflected in our preaching.  That's not necessarily one theme and three points.  It may be one sermon, one text, with three interwoven, intermingling themes.  It may be that if pressed to say what a sermon was about, your congregation could reply, "It was about a lot of stuff — about deliverance and the importance of singing the psalms and about God remembering us and about justice and why we shouldn't pray for God to look on us in  mercy and not in justice and about how God turns the tables on our enemies and … well, it was about Psalm 9."  Unity, yes.  And diversity.
September 26, 2013
In a recent blog entry, Doug Wilson pondered the potential significance of some coincidences that cropped up recently in his reading.  I've had the same experience more than once, though, like Doug, I don't know what weight or significance to attach to these experiences.   They're certainly not all profound or obviously meaningful.
The other day, just for the fun of it, I was reading a book about the old pulp magazines, which generated a blog entry on westerns and another on the amount of writing some pulp writers did and how much they were paid for it.
In a chapter on the pulp hero named Operator # 5, there was a discussion of the novels in this series about  the invasion of the United States by the Purple Empire, headed up (of course) by the Purple Emperor.  There's a picture of the first of those pulp novels to the right.
I set that book down and picked up Kenneth Grahame's Pagan Papers (a dud, by the way; stick to his The Wind in the Willows and The Reluctant Dragon) and what should I find at the end of an essay on getting a bookbinder to put expensive bindings on your books?  These words:  "For these purple emperors are not to be read in bed, nor during meals, nor on the grass with a pipe on Sundays; and these brief periods are all the whirling times allow you for solid serious reading. Still, after all, you have them; you can at least pulverise your friends with the sight; and what have they to show against them?"
Two occurrences of the phrase "purple emperor" in the space of a few minutes.  I'd understand that if either of these books was about butterflies (and I suppose Grahame may be making a metaphorical allusion to the purple emperor butterflies, though the allusion is not entirely clear to me).  But what are the chances of finding that precise and unusual combination of words twice in two very different books, neither of them about butterflies, in the space of fifteen minutes?  A big coincidence, certainly, but intimating … what, exactly?  Probably nothing.  Certainly nothing clearly.  But then, why the noticeable coincidence?
September 13, 2013
In my last post, I mentioned The Waltons, a show that comes easily enough to my mind because I'm working my way through Season 4 right now with my family.  Speaking of Season 4, in the fourth episode ("The Prophecy"), John-Boy is confronted by a professor who tells him that he'll be very lucky if he can make a living as a writer.  He says something like "There are only half a dozen writers in the United States right now who are able to do it."
Perhaps he was referring only to what might be termed "serious literature," which seems to be what John-Boy wants to write.  (The creator of The Waltons, somewhat disappointingly, seems to have turned out only about three novels himself.)  But if John-Boy had wanted to write for the pulps, he might just have been able to make a living.  If he had been fast enough.

"Come now," you say.  "Surely the pulps didn't pay that well."  Granted.  They might pay a penny a word (as with the Texas Rangers series I mentioned in my previous blog entry) or perhaps $500 for a novel. Lester Dent, working under the house name Kenneth Robeson, started writing the Doc Savage novels at $500 a month and later received $750. The magazines themselves didn't cost very much — maybe a dime — but some of them had a lot of readers.  Within a couple of years from its first issue, The Shadow "was selling more than 300,000 copies" (Hutchison, The Great Pulp Heroes, 20).  At a dime an issue, that's $30,000 per month.  Not bad, considering it was the Great Depression.
What kind of wages might a writer earn?  That would depend on how many stories he sold, and that might depend on how fast he wrote.  According to this site, wages in the early '30s ranged from $0.35 an hour to $1.50 an hour (e.g., for a doctor).  At an average of 21.67 working days a month and assuming only eight working hours a day, that's $60.68 to $260 a month.  Lester Dent's $500 a month looks pretty good in comparison, doesn't it?
But then consider a guy like Walter Gibson, who wrote The Shadow novels under the name Maxwell Grant.  At first, he was writing only one novel a quarter, but soon it was a novel a month — and then the magazine started to come out twice a month: "he was to produce twenty-four adventures per year, one 60,000-word novel every two weeks for as long as the popularity of The Shadow continued.  That figure totaled more than 1,440,000 words per year" (20).
If you do the math, that's 692 words an hour, every hour, eight hours a day and 21.67 days a month, every month.  Not 692 first draft, sloppy, "I'll write them fast and edit them later" words.  That's finished product, ready to go.  And that's not 692 words per hour, after taking some time to think about your plot.  If Gibson took some time for plotting, the actual writing was a lot quicker.
And, in fact, it was: "Keeping two dozen yarns ahead of publication, he sometimes turned out a fresh book in four to six days, often working all night to meet self-imposed deadlines. Behind a typewriter, he was as superhuman as his own creation.  He worked on a battery of machines.  When one began to "get tired," he'd move on to another, and then to a third (20)."
And he kept it up for eighteen years, for a total of 283 Shadow novels … among other things.  Hutchison notes that the published guide to Gibson's writing "is, in itself, a staggering 328 pages long" (29), and included "149 other books of all types, thousands of newspaper and magazine pieces, comics, radio shows, puzzles, mgic tricks, and other material under various pen names" (29).I don't know what his income was per story.  If he was paid a penny a word, that comes to $1200 a month.  Maybe, like Dent, he received $500 a novel, but that still comes to $1000 a month — and that at a time when many doctors were making less than $300 a month.
Serious literature, John-Boy?  No, you couldn't likely have made a living writing that in those years of the Great Depression on Walton's Mountain.  But if you'd been writing for the pulps your father liked to read and if you wrote fast enough and well enough, maybe you could have.  Apparently some people did.
It's hard to imagine, but according to pulp magazine historian Don Hutchison, from the 1930s into the '50s, there were at least "184 separate magazines devoted exclusively to Western fiction":
In magazines with titles like Blazing Western, Wild West Weekly, and Western Round-Up, legions of dusty Galahads blasted six-gun trails to pulpwood glory.  Vast and forbidding, the landscape of the American frontier produced one of the most alluring blank canvases in popular culture. Pulp Westerns, with their visions of high adventure and idyllic romance set in that perilous dream world, gloried in the nostalgic appeal of the uncivilized — total escape from anything that might be crowding you.  They spoke beguilingly to the homebound reader of men and women with civilization at their backs who were never afraid and never bored" (The Great Pulp Heroes, 149).
Consider what sort of demand there must have been to make it worth a publisher's while to put out just one of these magazines every week or even every month, year after year.
Then imagine how many voracious readers there must have been to gobble up 184 different magazines. (One of them was John Walton; true to real life, in many episodes of The Waltons, you see him reading a pulp Western magazine.)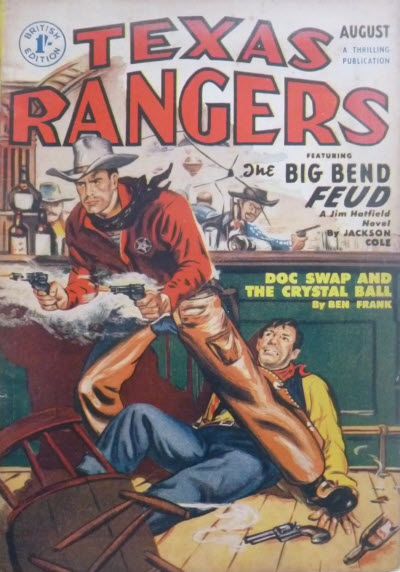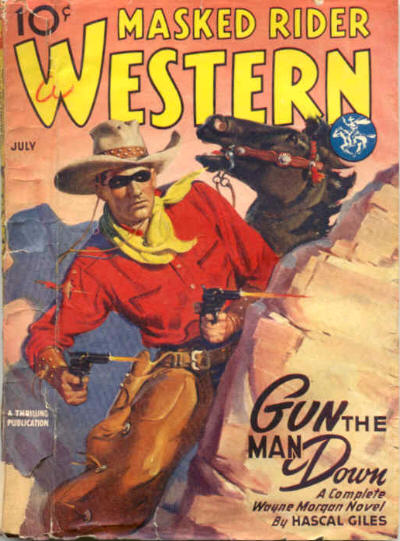 Granted, some of those magazines probably folded after an issue or two.  But others of them lasted for years.  There were, for instance, Texas Rangers magazine published 206 novels about Texas Ranger Jim Hatfield in a series that lasted from 1936 to 1958 — and that, mind you, in spite of the dialogue, of which Hutchison says, "Some Western writers of the twenties and thirties considered it necessary to inflict painful cowboy slang and dialect on readers, as if their characters had studied under Gabby Hayes' demented speech coach.  Apparently, this was the way you were supposed to talk if you lived west of St. Louis" (151).
Mind you, the magazines that were most successful were not necessarily the ones you might have expected:
Despite his radio and comic strip fame, The Lone Ranger's own magazine lasted but eight issues while his blatant pulp clone, the Masked Rider (who wore a mask and palled around with an Indian companion named Blue Hawk), galloped on for over one hundred numbers.  Go figure (149).
August 30, 2013
In honor of the great Irish poet Seamus Heaney, who passed away today, here is one of his early poems.   It was one of the first of his that I read and it's still one of my favorites.
BLACKBERRY-PICKING

Late August, given heavy rain and sun
For a full week, the blackberries would ripen.
At first, just one, a glossy purple clot
Among others, red, green, hard as a knot.
You ate that first one and its flesh was sweet
Like thickened wine: summer's blood was in it
Leaving stains upon the tongue and lust for
Picking. Then red ones inked up and that hunger
Sent us out with milk cans, pea tins, jam-pots
Where briars scratched and wet grass bleached our boots.
Round hayfields, cornfields and potato-drills
We trekked and picked until the cans were full
Until the tinkling bottom had been covered
With green ones, and on top big dark blobs burned
Like a plate of eyes. Our hands were peppered
With thorn pricks, our palms sticky as Bluebeard's.
We hoarded the fresh berries in the byre.
But when the bath was filled we found a fur,
A rat-grey fungus, glutting on our cache.
The juice was stinking too. Once off the bush
The fruit fermented, the sweet flesh would turn sour.
I always felt like crying. It wasn't fair
That all the lovely canfuls smelt of rot.
Each year I hoped they'd keep, knew they would not.
July 30, 2013
In 1 Peter 2, Peter quotes Psalm 118 about the Stone the builders rejected becoming the cornerstone.  He contrasts these builders with his own audience: "They stumble, being disobedient to the word … but you are a chosen generation, a royal priesthood, a holy nation, His own special people…."
Who are these builders?  Commentary after commentary tells me something like this:
One can see in the NT use of the stone passage a broadening in the identification of the rejecters.  In the Gospels and Acts (Matt. 21:42; Mark 12:10; Luke 20:17; Acts 4:11), the rejecters are the leaders of first-century Jerusalem, and the stone is identified as Jesus.  In Rom. 9:32-33, where Paul conflates Isa. 8:14 and 28:16, those who reject Christ the cornerstone are the people of Israel as a nation.  Here in 1 Pet. 2:8, the rejecters are any and all people, whether Jew or Gentile, who reject Christ" (Karen Jobes, 1 Peter, 154).
In Beare's words, Peter is speaking now of "all human destiny and … all endeavour," and "'The builders' now is taken to mean all who attempt to build human society or their own lives" (cited in Jobes 154).  Goppelt speaks of building "a future"  (cited in Jobes 155).
But what was the building project in Psalm 118 and in the citations in the Gospels?  What building project is in view in 1 Peter 2, for that matter?  Surely it's the building of the Temple, not of "a future" or of "human society" or of people's "own lives."  Peter speaks of his audience as being "built" into a "spiritual house," and then immediately talks about them as priests offering spiritual sacrifices.
In the Gospels, Jesus cites this Psalm in his confrontation of the Jewish leaders in the Temple on the great day of controversy that ends with Jesus leaving the Temple and declaring that it will be leveled to the ground, with not one stone standing upon another.  The temple's leaders — the builders (who were at that time literally engaged in a building project) — had rejected the Cornerstone and therefore their building would not remain standing.
The builders, then, are not "any and all people, whether Jew or Gentile, who reject Christ."  What Peter says about them and their stumbling and destruction may apply more broadly to other unbelievers, including pagan ones, but Peter is not speaking about unbelievers in general.
Rather, the builders are specifically those who are endeavoring to build the Temple, to build God's house, without Christ the Cornerstone.  In 1 Peter 2, it seems to me, we should take the builders to be unbelieving Israel, rejecting Jesus and persecuting the church (or stirring up such persecution, as we see throughout Acts).  But Peter's readers, scattered as they are (1:1) due to the attacks of "Babylon" (5:13), are the heirs of all the titles and privileges of Old Covenant Israel (2:9-10).  They are the temple, being built by God with Jesus as the Cornerstone.
The builders may continue with their Temple project, but they stumble and will, together with their temple, be destroyed.  But the "spiritual house" made of "living stones," built on and united to Jesus the "Living Stone," will stand.
July 29, 2013
In her essay on "The Psalms in 1 Peter" (in The Psalms in the New Testament, ed. Steve Moyise & Maarten J. J. Menken [London: T&T Clark, 2004): 213-229), Sue Woan draws attention to the frequent allusions to Psalm 34 throughout this epistle.  The quotation in 3:10-12 is obvious, but the references to "evil" (kakou) and "deceit" (dolon) in 2:1 likely come from Ps 34:12 ("Keep your tongue from evil and your lips from speaking deceit"), and 2:3′s "you tasted that the Lord is good" derives from Ps 34:9 ("Taste and see that the LORD is good").
What is particularly interesting is that the words and themes that appear in the quotation from Psalm 34 in 1 Peter 3:10-12 show up earlier in the letter in the same order:
1:3 – living hope (elpida zosan) & 3:10 – life (zoen)
1:8 – have seen (idontes) & 3:10 – to see (idein).
2:1 – evil (kakian) and deceit (dolon) & 3:10 – evil (kakou) and deceit (dolon).
2:12,14 – evildoers (kakopoion) & 3:11 – evil (kakou).
2:20 – doing good (agathopoiountes) & 3:11 – do good (poiesato agathon).
2:22 – righteously(dikaios) & 3:12 – righteous (dikaious).
3:9 – evil for evil (kakon auti kakou) & 3:12 – evil (kaka) (223-224).
What's missing in this parallel?  The quotation of Psalm 34 in 1 Peter 3:10-12 includes "Let them seek peace and pursue it," and there's no verbal parallel in 1 Peter.  But, says Woan, what we do find as we follow these parallels in sequence is that the section that we'd expect to parallel this part of the Psalm 34 quotation is 2:11-20, "about pursuing a deliberate lifestyle of turning away from evil and from any activities not commensurate with their new status in Christ."
We seek peace and pursue it, then, by abstaining from fleshly lusts that war against our soul.  As we put off these lusts and abstain from them, they are not able to war against us, and the result is peace.  Woan herself makes this point: "Such activities are described in 2:1 as 'waging war'; the implication being that renouncing them is equivalent to 'seeking peace'" (224).
But we can go further.  Peter urges us to abstain from these lusts and to do good with a goal in mind.  Woan's parallels help us see that we are to seek and pursue peace in society as well, by doing good works so that even (perhaps once hostile) Gentiles may observe them and be drawn to join the church in glorifying God.
Woan also shows how the Psalm 34 quotation in 3:10-12 looks forward to what Peter says in 3:13-17, again with common words in order, but this time in reverse (chiastic) order:
A 3:11 – evil (kakou).
B 3:11 – doing good (poiesato agathon).
C 3:12 – righteous (dikaious).
D 3:12 – evil (kaka).
D' 3:13 – evil (kakoson).
C' 3:14 – righteousness (dikaiosunen).
B' 3:17 – doing good (agathopoiountas).
A' 3:17- doing evil (kakopoiountas).
Once again, there's something in the Psalm quotation that doesn't have an explicit verbal parallel in 1 Peter 3:13-17, namely the opening of the quotation: "He who wants to love life and to see good days…" (3:10).  But, Woan says, there is a thematic parallel in 4:7 ("the end of all things is as hand") and especially in 4:13 ("referring," says Woan, "to the time when followers will be glad and shout for joy when Christ's glory is revealed") and 5:1, 4, 6, which "each focus on the 'good days' which are to come for those who are faithful" (225).
Certainly there isn't a section of the text that one could say is clearly chiastically parallel to 3:10.  Nevertheless, Woan is correct to see general parallels between the "good days" and the "life" of which Psalm 34 speaks and the glory Peter says is going to be revealed, the exaltation that is coming in due time for those who humble themselves under God's hand.
In fact, we can go beyond what Woan herself says.  Immediately after 3:14-17 (which Woan says is verbally chiastically parallel to 3:11-12), we have a passage about Jesus' suffering and death, followed by new life (3:18: "made alive by the Spirit"), which leads into Peter's application to his audience (e.g., 4:1-2: suffering in the flesh, like Christ, leads one to "live the rest of his time in the flesh" in a new way; 4:6: "those who are dead" may "live according to God in the Spirit").  So, as in 3:10, there is an emphasis here on life, the new life that Jesus has and in which his people share.
If you love life, then, you adopt the pattern of Psalm 34 (1 Pet 3:10-12), which is also the pattern of Christ (as the parallels between 3:10-12 and the first half of the epistle indicate).  You abstain from evil and deceit; instead you do good.  And the result is that, like Christ and in union with him, you also suffer in the flesh — but the result is life, a life which is "good days," exaltation, glory, and rejoicing.
July 3, 2013
One can never think that he is getting into a deeper level of interpretation when he gets at the instincts of man than when he deals with the intellect of man.  There are, from the Christian point of view, no higher and lower levels of existence…. The ineffable, the inexpressible, the "groanings which cannot be uttered" are not any more valuable in the sight of God than the self-consciously expressed praise of God.

Christian psychology does not place the intellect ahead of any other aspect of man's personality in the sense that one should be more truly human than another.  Man is equally prophet, priest and king.  All that Reformed theology has meant by emphasizing the priority of the intellect is that it is only through intellectual interpretation that we can communicate with one another about the meaning of reality — Cornelius Van Til, Psychology of Religion, 49, 67.
May 31, 2013
Benne Holwerda, commenting on the phrase in 1 Peter 1:3: "Blessed be the God and Father of our Lord Jesus Christ, who according to his great mercy, rebegot us…":
When we think of mercy, we think of "compassion."  Mercy we show to the sick and destitute and needy.  And the biblical word undeniably does have that element.  But it is also much more.

If a beggar comes to your door, then you can give that man something, but you can also leave him alone.  In other words, he never knows beforehand whether he will receive anything.  You do not have the obligation to sacrifice, and therefore such a person's existence is absolutely uncertain: he never knows what he can count on.

And there lies the difference between the biblical word and its present-day meaning.  In the Bible, too, mercy has to do with compassion to which God is not bound and which we ourselves have forfeited.  But with regard to this mercy, we need never to be in doubt, because God has obligated Himself to it.

Actually one can best render the content of this word by "covenant faithfulness."   And — isn't it true? — in a covenant one always knows where one stands: If the element of faithfulness remains firm, one can count on the mercy!  Scholars have demonstrated this sense of "mercy" in Scripture.  To give one quotation: "God's mercy is based on the covenant, whereby He freely takes upon Himself obligations toward His people, so that the pious can call upon God's mercy; in this connection one must keep in view that it is always the mercy that God has promised, on which one thus cannot make a claim but which one can still expect.  The idea of mercy and of covenant belong together!"

Naturally I do not mean to deal with the term "covenant" here. But I do believe that there is so much doubt about God's grace because many no longer (want to) know about the covenant.  We would hope in the mercy of God if only we believed in His holy covenant!  But many speak and think about the mercy of God as a lottery: you only have a chance!  The only way we can expect improvement here is if we no longer isolate the one from the other, but allow everything — and thus also the mercy of God — to stand in the framework of the covenant in which Scripture places it. — Benne Holwerda, "'According to His Mercy Reborn' (1 Peter 1:3b)," De wijsheid die behoudt (my translation and slight paraphrase).
May 29, 2013
It is not only prayer that gives God glory but work.  Smiting on an anvil, sawing a beam, white-washing a wall, driving horses, sweeping, scouring, everything gives God some glory if being in His grace you do it as your duty.  To go to communion worthily gives God great glory, but to take food in thankfulness and temperance gives Him glory too.  To lift up the hands in prayer gives God glory, but a man with a dungfork in his hand, a woman with a slop pail, give Him glory, too.  God is so great that all things give Him glory if you mean that they should — Gerard Manley Hopkins, cited in Kathleen Norris, The Quotidian Mysteries, 70-71.
In fact, without taking much away from what Hopkins is saying here, one should go even further: "if being in His grace you do it as your pleasure."  It is not only duty that glorifies God; it is also delight.  Prayer glorifies God, vacuuming the carpet glorifies God, and so does my son laughing as I tickle him.  So does my daughter as she jumps up and down for joy when she finds that I've brought her a new book from the library and so does she, if being in God's grace and not neglecting something she ought to be doing at that time, she sits down to become completely absorbed in that book.  God is so great that He is glorified even by our play, because, after all, he even created Leviathan to play before him  (Psalm 104).
May 17, 2013
In a recent essay ("Tragic Worship"), Carl Trueman claims that the modern push for "entertaining" worship isn't actually entertaining enough because it neglects tragedy, which is one of the highest forms of entertainment. He writes:
Perhaps some might recoil at characterizing tragedy as entertainment, but tragedy has been a vital part of the artistic endeavors of the West since Homer told of Achilles, smarting from the death of his beloved Patroclus, reluctantly returning to the battlefields of Troy. Human beings have always been drawn to tales of the tragic, as to those of the comic, when they have sought to be lifted out of the predictable routines of their daily lives—in other words, to be entertained.

From Aeschylus to Tennessee Williams, tragedians have thus enriched the theater. Shakespeare's greatest plays are his tragedies. Who would rank Charles Dickens over Thomas Hardy and Joseph Conrad? Tragedy has absorbed the attention of remarkable thinkers from Aristotle to Hegel to Terry Eagleton.
What strikes me is that, with the sole exception of Shakespeare, everyone listed here as a great tragedian is a pagan or an unbeliever: Homer, Aeschylus, Williams, Hardy, and Conrad.  In fact, the close link between paganism/unbelief and tragedy is so obvious that one of the proposed paper topics in one of my English classes in university years ago was on the possibility of Christian tragedy.  One answer might be that when Christians, including Shakespeare, write tragedies, theirs are different: Shakespeare wasn't writing Aristotelian tragedy, nor did he share the bleak despair of a Hardy, and even in the deaths of his characters, beauty shines out, the beauty in particular of virtue, the beauty of what's good.  While paganism is characterized by tragedy and despair, Christians embrace what Peter Leithart calls "deep comedy."
But what puzzles me in this essay is what this tragic strand in Western literature has to do with the character of the church's liturgy.  Trueman writes: "Tragedy as a form of art and of entertainment highlighted death, and death is central to true Christian worship.  The most basic liturgical elements of the faith, baptism and the Lord's Supper, speak of death, of burial, of a covenant made in blood, of a body broken."
But what Trueman seems to overlook is that the Lord's death is precisely not tragic.  The gospel of the cross doesn't share in the "can't fight the gods" fatalism of Aeschylus or its modern Hardyian form, nor is Jesus' death like the deaths of Romeo, Hamlet, Othello, or Macbeth.  We don't feel good about Jesus' death because in it we see man's hubris being punished (Aristotle); we rejoice in it because in it man's sin was dealt with and because, having death with sin, Jesus rose again.  Remembering the Lord's death in the Supper and remembering the death of Tess Derbyfield are two very different things.
Furthermore, while Trueman is correct in saying that "Death remains a stubborn … and inevitable reality" (I question his use of the word "omnipresent"), I don't grant that "human life is still truly tragic."  Even in great western literature, not every death is tragic.  When Aragorn kills an orc, there's nothing tragic about the death of that orc.  When Boromir rescues Merry and Pippin and then dies of his wounds, his death is sad but not tragic.  When your grandmother falls asleep in Jesus, her death is sad, but not tragic — and beyond her death, there is the certainty of her bodily resurrection in glory, because in Christ death is swallowed up in victory.  (And unlike Trueman, it seems to me that while the emphasis of the funeral ought to be on Christ's triumph over death, there's nothing wrong — let alone "most ghastly and incoherent" — with "the celebration of a life now ended.")
Certainly, there is sorrow in this life.  I agree with Trueman that Christians can and should lament.  Paul tells us to sing psalms, and many of the psalms are full of lamentation.  I'm all in favor of restoring the psalms to the Christian life and to the church's liturgy, though I would add the caveat "as appropriate."  Why?  Because it's not appropriate for lamentations to predominate in the liturgy.
Trueman praises "the somber tempos of the psalter, the haunting calls of lament, and the mortal frailty of the unaccompanied human voice" of his Scottish Presbyterian tradition, but those adjectives — sombre, haunting, unaccompanied — hardly seem to fit with, say, Psalm 150 or with the descriptions of the Levitical choirs that David established or the heavenly choirs in Revelation.  God apparently delights in accompanied singing (indeed, the word "psalm" itself implies accompaniment!), and apparently he likes it loud and vigorous, at least much of the time.
Trueman claims that "traditional Protestantism" connected "baptism not to washing so much as to death and resurrection."  That's as may be — washing is certainly as valid a connection as death and resurrection — but again, the death associated with baptism, linked so closely with resurrection, was far from tragic.  He points to the reading of the law every Sunday: "Only then, after the law had pronounced the death sentence, would the gospel be read, calling them from their graves to faith and to resurrection life in Christ."  Leave aside the question of whether the reading of the Ten Commandments before the confession of sin tends to emphasize the so-called "first use" of the law instead of its primary use as a rule of life and even grant the questionable assertion that the reading of the law "pronounces the death sentence" and apparently carries it out (so that believers are in "their graves" after it!), we still have a progress from death "to resurrection life in Christ" — so why should the rest of the service be sombre as if we were still dying or dead?
Is there room for sorrow in the Sunday service?  Perhaps, in measured doses.  It's not inappropriate to sing Psalm 51 in connection with the confession of sins.  On occasion, it may be right and fitting to sing a lamentation.  But what ought to be the dominant note of our worship, even when we've been deeply convicted of our sins?  It certainly isn't tragedy.  Nehemiah 8 points the way:
Then Nehemiah, who was the governor, and Ezra the priest and scribe, and the Levites who taught the people said to all the people, "This day is holy to the Lord your God; do not mourn or weep." For all the people were weeping when they heard the words of the law. Then he said to them, "Go, eat of the fat, drink of the sweet, and send portions to him who has nothing prepared; for this day is holy to our Lord. Do not be grieved, for the joy of the Lord is your strength." So the Levites calmed all the people, saying, "Be still, for the day is holy; do not be grieved." All the people went away to eat, to drink, to send portions and to celebrate a great festival, because they understood the words which had been made known to them.